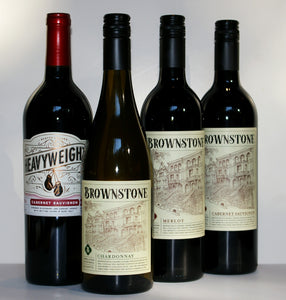 Dream of sunny California while enjoying a selection of wines from California.

N/V Brownstone Chardonnay
Crisp citrus flavours are enhanced by an extended cool fermentation and pleasant acidity.

2016 Heavyweight Cabernet Sauvignon
The sweet aromatics of this big bold Cabernet, with smooth tannin, black & raspberry currents followed by other dark fruits flavors. Finishing strong yet balanced rich sweet fruit.

N/V Brownstone Cabernet Sauvignon
Medium body with light but present tannin, baking spices and rich stewed fruit dominate the aromatics, while sweet dark fruit & cinnamon balance out the hot Lodi fruitful finish.

N/V Brownstone Merlot
Sweet and spicy aromatics, with hints of plum, baking spices & vanilla. Followed by a balance of smooth and silky dark fruits finishing medium length with minimal astringency.