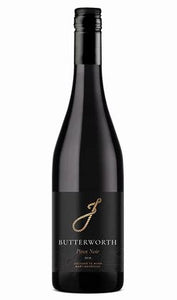 THIS PRODUCT IS ONLY AVAILABLE THROUGH THE CLASSIC CATALOGUE/LCBO
Producer Butterworth Te Muna Estate Ltd
Region Martinborough, New Zealand
Description
The vines were hand pruned, hand trained, and hand tended on two cane vertical shoot positioning trellis system on Butterworth Estate's Julicher Vineyard on the renowned Te Muna Road in Martinborough, Wairarapa. The grapes were hand harvested from 6 different clones, the picks were coordinated with the differing ripening times.
Lifted aromatic rose petal, wild raspberry and blackberry, cinnamon and nutmeg spice jump from the glass with lavender and earthiness following.
The palate is spicy, with great length. The Te Muna Road minerality drives through the middle of
the palate, showcasing the delicate ripe gypsum tannins that were gently extracted from the skins during ferment.
Reviews: 
 94 pts Bob Campbell
Appealing, elegant pinot noir with red fruits, spice, wood-smoke, fresh herbs and subtle floral flavours. A high-energy wine with a backbone of bright, fresh acidity and fine, peppery tannins.